COVID-19 – A Message From iVvy CEO, Lauren Hall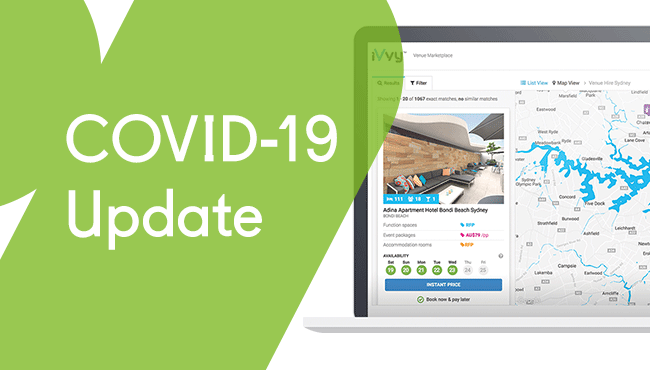 COVID-19 has had a major impact on our community of event organisers and venues, and our thoughts are with you. Whilst there are still many unknowns about the situation, iVvy's duty is to ensure that we continue to support you in any way that we can during this time.
To limit potential disruption to your business and to support the global goal of slowing down the virus, the iVvy team will be working remotely from Tuesday 17th March at 9am AEST. Over the years we have invested in systems and have trained and encouraged our team to work from home in case of sickness or emergency, and we are well prepared.
As a result, we will be able to continue to provide our full services to clients and our community throughout this time, from ongoing development and feature releases to support and training.
For the immediate future, iVvy has however suspended all non-critical, face-to-face meetings and onsite training until further notice. Instead, we'll be using video communication software to avoid any interruptions to your services and projects.
Phones will continue to be available 24/7, but should there be any reason you cannot connect with us in this way, email support@ivvy.com.
iVvy's security policies and procedures will not be impacted during this time as our Business Continuity Plan has processes in place to ensure the availability and security of your data when a team member is working remotely.
Where your event has been cancelled and you need to offer refunds for registrations, iVvy will waive any refund fees we would normally charge. (Please contact us for more details.)
Whilst we know the current outbreak is concerning, we also know that 'this too will pass' and we will be here to support you however we can, both now and when that occurs. Contact your account manager should you need anything else from us during this time.
Thank you for your business and your partnership as we work together during this challenging time.

Lauren Hall,
Founder & CEO