Five Ways Forward After COVID – Essential Strategies for Venues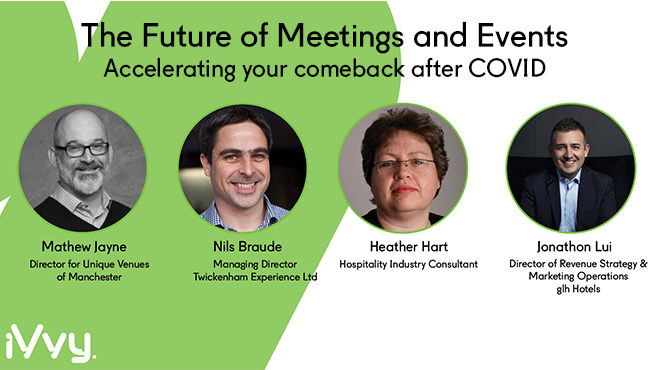 UK Industry Experts Define Roadmap for Success
In our industry webinar, The Future of Meetings & Events: Accelerating Your Comeback After COVID, we joined experts from across the sector to chart guidelines for success. The key themes? Automation. Tech-led operations. Flexibility. Transparency. And innovation, always.
Dive in to meet our panellists and uncover the insights from our recent roundtable:
Meet the Experts
Heather Hart, hospitality industry consultant
Nils Braude, Managing Director, Twickenham Experience Ltd
Mathew Jayne, Director, Unique Venues of Manchester
Jonathon Lui, Director of Revenue Strategy & Marketing Operations, glh Hotels
Chair: Rachael Grimsey, Senior Vice President – Global Sales & Partnerships, iVvy
Five Factors for Success
Technology
Now, more than ever, integrated technology provides competitive advantage. Data analysis and forecasting tools, reduced response times, online inventory management, capacity analysis and revenue optimisation ensures venues can deliver on customer needs while ensuring profitability, says Jonathon Lui, glh Hotels. 
"The first part is understanding the new demand with social distancing," he says. "Intuitively we know the event and meeting space, but we now have vastly different capacities. Technology that can support that analysis and understanding supports us getting to market really quickly.
"There's going to be a lot of demand, with hotels and venues looking after the same business. Getting to clients and meeting planners as best we can, as quick as we can, will make a huge difference to our success."
With 65-70% of first responses to enquiries securing the business, time is most definitely of the essence in managing event bookings. Automation enables venues to manage events from the booking process through to operations with as little resource as possible, protecting revenue even when margins are reduced, says Nils Braude, Twickenham Experience Ltd.
"We've taken this opportunity during lockdown to upgrade our proposals, look at our data, ensure that the system that we use – iVvy – is fully up to speed. We've continued to link iVvy and our website to online booking platforms, using this time to ensure we're the first to market when we open. 
"The market needs very quick reactions now – there will be huge competition, so the sooner, quicker and slicker you can respond, the better. We've used this time to get our proposals up to speed, making sure we're ready."
And far from a cookie-cutter approach, venues are using technology to enable customisation and automation at a click. "It's about addressing the client's need the first time – not just sending generic proposals, but making it bespoke to the client," says Nils, including all the negotiation, venue photos and custom elements recognising the uniqueness of their event. "We're also promoting the fact that we can do hybrid events, with the technology and partners to enhance their event," he says.
Flexibility
Agile venues that offer flexibility in their terms and conditions, space configurations, customer solutions and pricing will meet the needs of a highly cautious market. Using venue space in innovative ways to meet capacity requirements is key – hotel rooms and suites become break-out rooms, restaurants and bars host smaller groups and even open spaces and carparks represent opportunities for events business.
"We're not limiting ourselves to the meeting and events spaces we would traditionally use," says Jonathon. "We know our accommodation demand will be down, so we're using suites and rooms as meeting rooms that can be sectioned off. We're looking at our restaurants and bars – at some stage they may be not viable to open, so how can we use them as alternative space? We're looking at all the spaces within our hotels to meet the different demands our customers may have now."
Expanding your market beyond the traditional meeting planners is also critical, with Jonathon and Nils both noting that the corporate office market now has a need for additional space as staff return to work, albeit under increased social distancing measures. Venues with ground floor or first floor spaces now have distinct competitive advantage over high rises with lift access, and regional venues have the edge over inner city spaces, as commuters demonstrate high caution over public transport.
Customer Engagement
"Understand customers' needs and expectations in this post-COVID climate to build flexibility into your product offering and expand your future sales pipeline," says Mathew Jayne, Unique Venues of Manchester. Provide the right information, the first time, with bespoke proposals tailored to your customers' needs, clear terms and conditions, and your event management policies. 
For smaller venues, the leading edge is in agility and visibility, powered by tech. "The early signs of return are around smaller meetings, hybrid meetings – so smaller venues can be that much more agile and respond," says Mathew. "Being flexible in terms and conditions is important to secure the business, and customer engagement is key. Live availability is going to be one of the key aspects – this is what our customers are going to want."
He points to the retail market, where shopping online is now the 'comfort zone' for many customers, and predicts this will translate to the events buying cycle, with heightened demand for online visibility and live availability for venue spaces.
Transparency
Live venue availability, instant bookings, removing hidden costs and clearly communicating COVID-safe policies, guidelines and procedures creates a competitive edge, says Heather Hart, industry consultant. 
While there is definitely an industry appetite for online events bookings, "hotels still have a nervousness about it," says Heather. "While there are starting to be systems available for distribution and immediate online booking, it's still about control – while I be able to manage my pricing, control my availability, do I need to run a separate system, do I need to keep two inventories live?
"That's where systems [such as iVvy] are coming in" she says, noting that integrated platforms will start to give venues confidence in "getting their inventory online and being able to manage it effectively."
Innovation
"Our industry is renowned for being creative and adjusting to challenging situations," says Mathew Jayne. Look to adapt and adopt in this new normal, with alternative meeting structures, spaces and configurations – which may include collaborating with partner venues, suppliers and even production specialists to broadcast keynote addresses.
"One of biggest deterrents from having larger events is that speakers can't travel right now," says Nils. "So we're working with our AV partners to offer a professionally recorded, stage managed, quality production in any venue anywhere in the world, so the speaker can still be part of the event without physically travelling across borders." He notes this will become particularly important in the next six to 12 months as travel restrictions slowly lift.
Future Forecast
For the immediate term, our experts agree the road back to business will be regionalised. With fewer internal restrictions, particularly in the UK market, domestic-led recovery and smaller events are forecast. While enquiries are returning, lead times are longer, with many venues predicting Spring 2021 as the catalyst to recovery. And while hybrid and virtual events remain in demand, all experts agree that the need to gather people together, to reconnect and meet face-to-face will resume.
Want more? Watch the full replay here for industry insights from our experts.