Flexibility Key to Post-COVID Comeback Says Industry Experts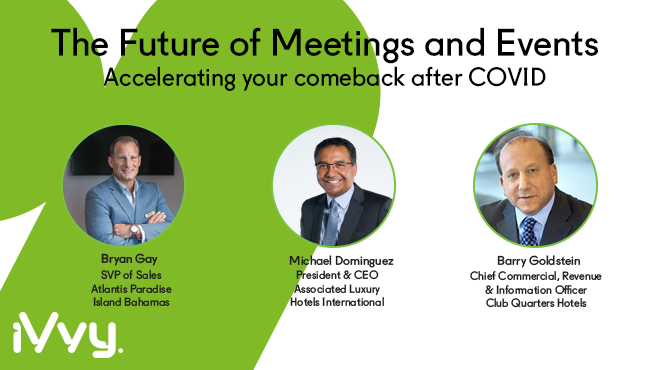 US Industry Experts Define Roadmap for Success
iVvy joined hospitality experts from across the US In our industry webinar, The Future of Meetings & Events: Accelerating Your Comeback After COVID, to chart guidelines for success. The key themes? Integrated tech. Flexibility. Customer engagement. Partnerships. And innovation.
Dive in to meet our panellists and uncover the insights from our recent roundtable:

Meet the Experts
Bryan Gay, Atlantis Paradise Island Bahamas
Barry Goldstein, Club Quarters Hotels
Michael Dominguez, ALHI
Chair: Amy Forss, Senior Vice President of Sales – US and Canada
Flexibility the Key Driver for Success
Planning events 90-120 days into the future amidst ever-changing restrictions and government guidelines is challenging, to say the least. "We don't know what the travel and meetings scenario is going to be like in a few weeks. We're working with our clients and accommodating their needs as best we can," says Bryan Gay, Atlantis Paradise Island Bahamas. While Gay notes a positive trend in leads in recent weeks "there's still a lot of uncertainty around air travel and protocols".
Working with event planners on attrition and cancellation clauses and Food & Beverage minimums helps to reduce the planner's exposure and secure the business, he says. In turbulent times, venues must work with clients on a case-by-case basis – it's no longer enough to defer to 'the way we normally do things'. This is our new normal, at least in the immediate term.
[TIP: Customize proposals and quotes in a click with iVvy. Find out how.]
Integrated Technology Vital
Now, more than ever, integrated technology provides competitive advantage. "The importance of technology is even more critical," says Barry Goldstein, Club Quarters Hotels. "Many hotel brands have done a great job of thinking about their tech over the past few years," he says, but it's now the integration of that tech that provides the leading edge. From virtual site tours to pre-travel logistics, and contactless check-in to hybrid meetings and digital attendee engagement, the investment in technology for hotels and venues now becomes even more important, he says. 
And with the increased demand for virtual and hybrid meetings, venues need to quickly adapt and adopt new tech to support their clients. "Hotels have a responsibility to provide more expertise than a connection to the internet," Goldstein says. "We need to go above and beyond what we've been doing in the past."
Michael Dominguez of ALHI agrees: "We're hearing frustration from the event planner community," he says. "Tech companies are offering platforms but not always offering the services to help planners plan a virtual meeting." Dominguez says venues have an opportunity to offer expertise in this field, helping to guide planners through software selection, considerations and how best to integrate traditional and digital event delivery.
[TIP: iVvy integrates with your in-house systems seamlessly. Check out our current integrations to see how we can streamline your business.]
Enhanced Customer Engagement
"Listen to the needs of your customer", says Bryan Gay. "Don't just think, 'this is how we've always done it.'" All our experts note that working closely with customers – corporates, event planners and attendees – is critical to providing an enhanced event experience in this post-COVID climate.
One challenge, particularly for hybrid events, is the integration of content, says Barry Goldstein. "Venues need to think about what does that content look like, how can attendees react to it and experience it a little differently?" he says.
Partnerships
All experts note the need to work with clients on a case-by-case basis, as the market rapidly adjusts to post-COVID norms. Goldstein notes the importance of fostering positive relationships with your clients – "whether that's the planner or the company itself. As more hotels open, competition will become even more challenging," he says. Prioritizing the client relationship and flexibility in your offering may protect your venue from price discounting by competitors. 
Adding value to your offering extends beyond the immediate space or services within your property. Look to simplify the event planning process, providing accurate information, guidelines and support for your client.
"Everyone is asking, 'How will my meeting happen?'", says Michael Dominguez, ALHI. Venues need to adopt the role of educator for their clients, providing guidance on protocols, the use of tech platforms, promoting virtual attendee engagement and more. It's no longer enough to be an expert on your hotel or region – understand key learnings from around the US and the globe, look to other industries for best practice, investigate new technologies and deliver an educational resource platform to streamline the event planning process for your clients.
[TIP: Level-up your client management with iVvy's CRM, to capture leads, record sales activities and view all interactions.]
Innovation
"We're seeing great creativity around services, not just the use of the event space," says Michael Dominguez, pointing to examples of hotels partnering neighbouring gyms to expand capacity in otherwise unused recreational space, and meeting spaces configured to enable local businesses to bring employees back to work while maintaining social distancing. 
Goldstein notes that individuals and companies are booking guest rooms for remote workers who need a quiet space away from the disruptions of home, and seeking meeting rooms to accommodate multiple workers while upholding social distancing requirements.
Offering virtual site tours overcomes the challenges of travel restrictions while hybrid events enable traditional and virtual attendees. While larger, more complex meetings have been offering hybrid solutions for years, some venues had baulked at offering the service "out of fear, or because they didn't have time to learn how to do it," says Dominguez. "Now that fear factor has been removed." He notes that "hybrid is here to stay" and while traditional MICE meetings will resume, hybrid meetings will remain part of the new events landscape out of necessity.
Look to adapt and adopt in this new normal, with alternative meeting structures, spaces and configurations – technology such as iVvy can empower your venue.   
Future Forecast
"We'll be back, and quicker than most people would expect," says Michael Dominguez, ALHI. All our experts reported a positive trend in leads and secured business in recent weeks, noting that much of the 2020 business has not been cancelled, but postponed to 2021. Demand is returning, albeit for downsized events in the short-term while there continues to be much uncertainty regarding travel and capacity restrictions. But the appetite for meetings remains. "There is still a desire to travel, to have meetings," says Bryan Gay, Atlantis Paradise Island Bahamas, noting strong demand for 2021.
For the immediate term, our panelists agree the road back to business will be smaller meetings, and while hybrid and virtual events remain in demand, all experts agree that the need to gather people together, to reconnect and meet face-to-face will resume. 
In addition to social distancing, increased flexibility and creativity, we'll see even more technological integration as venues expand their service offering and streamline the event planning process for their clients. In highly complex times, the key to success may be simplicity. "Make it easy for people to have a meeting," says Barry Goldstein. Work closely with your clients, provide clear information and guidance, and build strong partnerships.
"We pull together," says Bryan Gay. "That's what the meetings industry has always shown – we do bounce back." With the adoption of new tech, digital platforms and innovative solutions, Gay notes the potential for an increased meetings market. "With virtual and hybrid events in the mix, we're opening up meetings to a bigger audience," he says. "Now we're creating even bigger opportunities that we had before."
Want more? Watch the full replay here for industry insights from our experts.