How Your Hotel Can Benefit from the Bleisure Travel Boom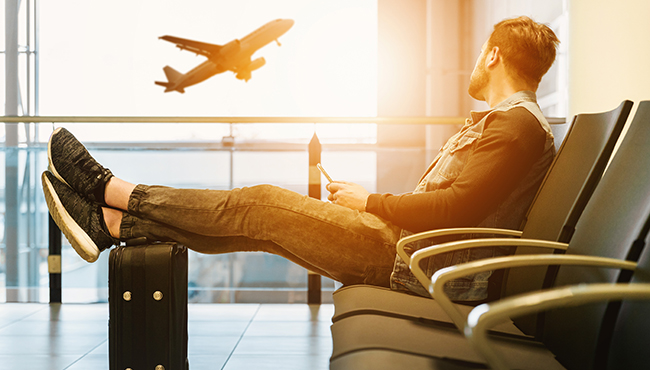 We're likely all familiar with the age-old sentiment of "all work and no play" — well, that's simply not a dynamic that the modern masses are willing to abide by, it seems, especially in the case of Millennials. With the 'experience economy' evolving before our eyes, we are witnessing what appears to be a generational penchant for mixing business with pleasure. Or, as it's more popularly termed, 'bleisure travel'. New research from Expedia Media Solutions shows that bleisure travel is thriving, with more than 60% of business trips in the past year including a leisure portion.
According to the second annual State of Business Travel Survey, 90% of Millennials have engaged in bleisure travel in the past year, compared with 81% of Generation Xers and 80% of Baby Boomers. Further, recent travel and expense data from 2017 showed a 20% uptick in bleisure trips, with 2.2 million bleisure trips taking place in that year alone.
So, what exactly is bleisure travel? Is it just another industry buzzword to come and go or is it a movement that your hotel can truly benefit from?
Quite simply, bleisure travel is the trend of blending business with leisure activities on business trips, spearheaded by travelers hoping to achieve an improved work/life balance and take advantage of corporate trips. Especially for those employees frequently traveling to far-out destinations for meetings or work-related events, the prospect of extending those trips for leisure purposes or bringing along a loved one becomes rather compelling. As this trend continues to emerge, corporate and leisure travel has become intertwined, with OTAs (Online Travel Agents), hotels and even companies looking to capitalise on the 'bleisure' movement.
In recent years, Forbes reported that 57% of companies had created a policy for employees to extend a business trip into vacation time. Considering that the modern workforce is largely comprised of Millennial employees, this comes as no surprise. After all, the Millennial generation is known for their desire for travel, exploration and their tendency to value experiences over material goods. In fact, according to surveys, 78% of Millennials intentionally carved out personal time on a business trip in 2017 and 60% of Millennials said that vacation time benefits their business by helping them think big picture. Even further, 84% of North American business travelers say the quality of their business travel experience impacts their business results. Considering that statistic alongside the uptick in job satisfaction associated with improved work/life balance, it's no wonder companies are getting on board.
Not only that, but 'bleisure' travel ranked among some of the most predominant travel predictions for 2019, with 87% of business travelers saying that they are likely to mix business and leisure on the same trip. This pairs nicely with the projected increase in 'mini-vacations', for which modern travelers are ditching the week-long summer vacations in favour of shorter, more frequent getaways. For many, those getaways may come in the form of an extended work trip, as the line between work and leisure continues to blur — especially in this era of freelance, non-traditional work regimes.
With so many travelers actively seeking out longer stays and leisure opportunities (amenities, activities, packages etc.) beyond their corporate itinerary, and companies even creating bleisure programs and incentives, hoteliers are presented with an exciting revenue opportunity. This proves especially exciting for the group business segment of the hospitality sector, as we consider the opportunity to maximise corporate events and meetings hosted by hotels each year. With the right technology and partnerships in place, hotels can work collaboratively with modern event planners to curate extended leisure packages, events/opt-ins and upgrades that are sure to appeal to modern corporate travelers. Even better, corporate and bleisure travelers rarely adhere to standard high/low season fluctuations, helping to protect hotels against low-season revenue slumps. We like the sound of that, don't you?
The rapid evolution of the bleisure travel segment has been exciting to watch, and is sure to pick up steam in 2019 and beyond. With improved technology and the influx of non-traditional work regimes and Millennial employees, there is simply no longer any reason to keep business and leisure separate when travelling.
About the Author
Lauren Hall is the award-winning Founder and Chief Executive Officer of iVvy. She is a passionate entrepreneur with more than 25 years of business management experience at the Executive and Board level, successfully growing multiple companies from startup to established company. With a background in programming, accounting and marketing, Lauren's expertise spans manufacturing, retail, advertising and the technology industry in both South Africa and Australia.
She co-founded iVvy in 2009, overseeing its growth to 1,000 clients across 13 countries and its expansion to New Zealand, Asia, Europe and North America.
Ernst & Young recognised Lauren as a future global leader of industry through the EY Entrepreneurial Winning Women Asia-Pacific program for 2016. Lauren also won three International Silver Stevie Awards for Entrepreneur of the Year Globally 2016, Innovator of the Year 2016 and Entrepreneur of the Year Asia Pacific 2016 and was recently named Gold Coast Business Woman of the Year 2016.