Introducing iVvy's Certification Program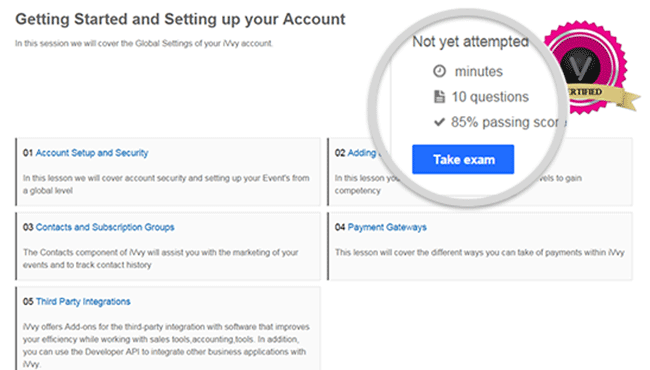 We are very excited to announce a significant upgrade to the training process within your iVvy Event Management Software.
Previously we offered online training with our trainer's and access to the iVvy knowledge base.
 The iVvy development team has just released the new Online Help centre and Training Certification Portal.
This will provide your staff with the access to iVvy's training centre 24 hours a day 7 days a week
The benefits of the new help Centre and certification Include:
Self-automated system, easy to navigate multiple choice questions
No wait time, get educated and start building your event right away
More flexibility over educating your staff, without having to be be present
Monitor user certification and exam progress
Participate in events training with our events trainer's focusing on the event that you are creating
Report and monitor on competency and progress for all of your users