iVvy – Bepoz POS Integration Brings Seamless Deposits and Payments to Any Size Event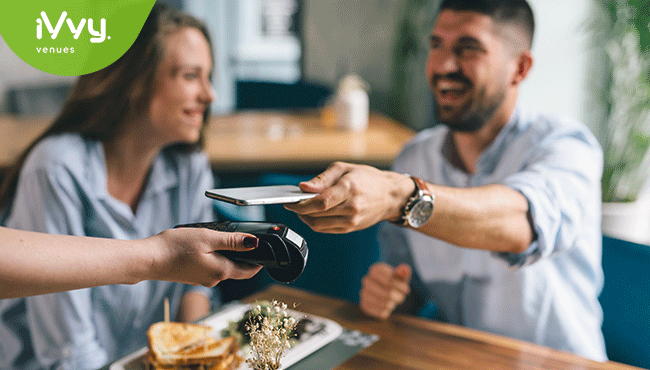 Michael Dell once said, "collaboration equals innovation". For hospitality leaders, this has perhaps never rung truer than it does today, as we arrive on the precipice of a new decade. Innovation has been an undeniable theme across the event and venue space over the last few years, transforming the event planner, guest, and staff experience at every turn. But that innovation would not have been possible — at least, not to scale — without the continued cultivation of strategic integrations and brand partnerships.
Why? Well, the answer is rather simple. When it comes to hospitality and venue spaces, and the ever-changing demands of the industry fueled by evolving guest and planner expectations, there is simply no 'one size fits all' solution.
Hotels and venues are faced with a growing list of operational requirements that necessitate the alignment of various platforms, solutions, and processes behind the scenes. And as you might imagine, this is where integrations can, in many ways, make or break a property's success. It's not enough to have a PMS and friendly, capable staff; the winning formula requires the marriage of a modern POS, PMS, CRM, Venue Management System, and more. With these core platforms in place, offering seamless integration across applications, hoteliers and venue owners can truly bring their offering to scale, both now and in the future.


The Advantage of a Best in Class POS
Let's face it, technology has steadily transformed seemingly every nook and cranny of the hospitality experience and point of sales (POS) is no exception. Harnessing the power and appeal of a more agile, mobile framework, hotels are finally able to offer the speed of service and level of convenience that modern guests expect. And if you thought a property's POS wasn't a make-or-break component of operations… well, think again. A hotel could pour millions of dollars into a renovation of their grounds to offer the highest tier of luxury to event planners and attendees, but if their POS system lacks? The over-all experience suffers, too. And subsequently, so do your reviews and, eventually, your property's reputation.
Operational efficiency is directly tied to the guest experience. You cannot have one without the other. Quite simply, it is all or nothing.
So, what does a great POS system mean for a hotel hoping to leverage venue space to prospective guests? Well, a lot of things. With the iVvy – Bepoz 4.6.14 integration, rather than relying on manual efforts, which, as we know, often translate to manual errors or delays, hoteliers can streamline operations for any event. As soon as a booking is created in the venue management platform, it will appear as an account in H&L and will reflect any deposits paid. Any additional charges, such as food and catering orders, can then be added to the booking. Once the event comes to an end, these charges are transferred back into iVvy to ensure accurate spend reporting; because, really, what frustrates an event planner more than charge discrepancies?
This functionality offers hotels more than a convenient way for guests to settle their bill. It also acts as an intuitive, integrated business control center tailored specifically for each unique venue space. From initial booking to final payments, everything is synced seamlessly and automatically to help hotels manage outstanding accounts with ease and accuracy.


A More Collaborative Future
Now, we look to a future that not only offers exciting new technology and possibilities, but which leans on a more collaborative landscape of industry leaders working together to continuously move the industry forward.
With this in mind, we have built a range of integrations to connect our venue management technology with critical best in class platforms that your property relies on to complete the guest experience. Greater efficiencies mean greater rewards. And we can't wait to see what the future holds with these partnerships in place.
About the Author
Lauren Hall is the award-winning Founder and Chief Executive Officer of iVvy. Lauren is a passionate entrepreneur with more than 25 years' business management experience at Executive and Board level, successfully building multiple companies from startup to strategic and financial exit. With a background in programming, accounting and marketing, Lauren's expertise spans manufacturing, retail, advertising and technology industries in both South Africa and Australia.

She co-founded iVvy in 2009, overseeing our growth to 1,000 clients in 13 countries and expansion to New Zealand, Asia, Europe and North America.

Ernst & Young recognized Lauren as a future global leader of industry through the EY Entrepreneurial Winning Women Asia-Pacific program for 2016. Lauren won three International Silver Stevie Awards for Entrepreneur of the Year Globally 2016, Innovator of the Year 2016 and Entrepreneur of the Year Asia Pacific 2016 and recently was named Gold Coast Business Woman of the Year 2016.

About iVvy
iVvy offers meeting planners the ability to search, compare, book and pay for function space, catering and group accommodations online, 24/7. By providing conference centers, hotels, restaurants and cruise lines with an integrated revenue management and distribution platform, iVvy equips Venue Operators with the tools they need to manage inquiries on any device, anywhere. With enhanced reporting and analytics, Venues are provided with greater visibility over their business so they can yield their meetings & event spaces to maximize revenue.
With offices in 5 countries and a global team providing support 24 hours a day, iVvy's groundbreaking, cloud-based software offers scalable solutions that tackle core issues faced by the travel, MICE and events industry, and continues to service the world's leading hospitality groups, major corporations, travel companies, government offices, associations, universities and nonprofits.