Reduce your venue's carbon footprint with iVvy
Posted on 25 February 2020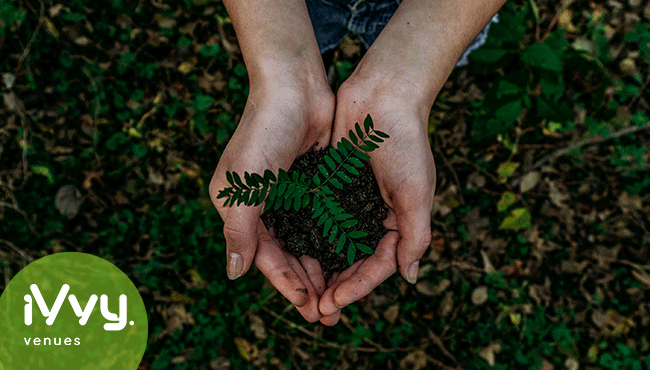 2019 was the year that the world became increasingly more aware that the damage of climate change was not only a future problem, but a concern we were really seeing the effects of on a daily basis. But that doesn't mean that 2020 can't be the year you take control of your company's carbon footprint, save costs and improve efficiency in your business in an eco-friendly way.
We'd like to introduce you to us, iVvy – a unique cloud-based software that is revolutionising the events and venues industry.
To show you the environmental benefits of using the iVvy system we've decided to round up our favourite eco-friendly features, that are not only great for the environment but will transform your business into a lean, mean, revenue building machine.


Virtual BEO


How many trees have we chopped down, to cover the amount of paper needed for a single event?


Gone are the days of printing off a new banquet event orders (BEO) every time there was a change made, for every member of staff working the event, from the kitchen to the waitstaff.  With our virtual BEO, you can say goodbye to the printer and no longer waste reams of paper. This new feature provides front and back of house staff a simple solution. Each time a change is made, the document automatically updates and the change appears in red. The template name and BEO version number is also displayed, enabling users to easily track which template type was used and sent to each internal and external customer, saving not only on paper but also precious time.


3D Virtual Tours
Reduce the carbon footprint of your clients with our amazing 3D event space tours. Whether your customers are from overseas, interstate or down the road, welcome them to do a virtual site inspection of your venue, 24/7 from the comfort of their own home (or office), meaning less fuel emissions damaging the planet.


Access Anywhere
Gone are the days of being stuck in the office from 9-5. With our cloud-based software, if you have internet connection, you can access iVvy and manage your business from wherever you are, whenever you want. Save your travel for the long haul flights, because with iVvy, you'll have way more time on your hands to take that holiday you've been dreaming of.


Paperless Reporting
Get your head in the clouds and ditch the spreadsheets, old school filing and unnecessary printing. Get real-time results with our automated reporting. Choose from dozens of reports and receive updates weekly or daily – the choice is yours. With iVvy get the information you need immediately, no more waiting for the printer. And when you no longer need these documents, simply archive them, cutting down on the need to shred or dispose of your documents, in ways that have negative effects on the environment long term.
Ready to go green? Contact us at sales@iVvy.com today. The planet will thank you for it.