Twickenham Stadium to manage their event bookings with iVvy in response to customer shift to digital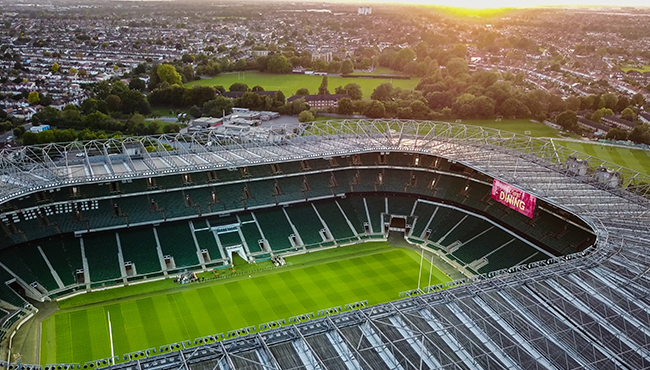 In a response to a 425% increase in online enquiries over the past 12 months, Twickenham Stadium's events arm has today announced that it will be offering live availability and real time bookings for its event spaces via its website.
Facilitated by iVvy, the world leading cloud-based Venue Management Software, the venue will now be able to publish live availability, rates and inventory for their function spaces, thus allowing event organisers to complete their entire booking online.
Nils Braude, Catering and Conference & Events Director at Twickenham Stadium explains, "While online shopping and book now, pay now for accommodation has been the norm for a number of years, the events industry hasn't quite caught up. There will always be a requirement for an element of human interaction when booking larger conferences and events, however we believe that there is an increasing desire to simplify the booking process to make it easier for both the venue and the client to manage."
Having previously managed their booking process through traditional means, the venue admits their systems were relatively 'admin-heavy' and time consuming across multiple departments. The iVvy software offers a comprehensive, automated solution to their sales, marketing and finance teams, by reducing the time it takes to facilitate bookings and prepare contracts. This will in turn enable staff to focus their attention on other aspects of the business, such as client engagement and stakeholder management.
Lauren Hall, CEO of iVvy says "We are extremely pleased to engage with Twickenham Stadium, to provide instant access for their exceptional range of event spaces, adding significant value to our marketplace and our customers. Onboarding such an iconic English venue that recognises the ongoing shift towards digitisation in the industry, and the need to monetise function space as a high priority to keep up with the demands of today's buyer, is truly phenomenal."
Hall continues, "We know that by providing a centralised sales management platform with real-time visibility on performance allows businesses to primarily focus on yielding their event spaces, which results in a significant increase in conversions. It is through this transparency that Twickenham Stadium will be able to increase internal efficiencies to optimise revenue across its departments."
Twickenham's Nils Braude added, "While there are many diary and event management systems on the market, iVvy is the only one which incorporates the live "search, book & pay" function to meet our requirements. Coupled with the ease of use for the operators and streamlined processes, iVvy ticks all of the boxes."