Identifies the type of menu that the menus are going to be associated with. 
For Example; Canapes Menu, Buffet, Platters, Set Menu etc. Each menu will be categorised by Menu Types that you have pre-defined for your venue.
Each menu type will also have an assigned category. Categories can be utilised in reporting
Menu types are global, and are used across all venues in your iVvy account (they can be personalised but will be seen by all venues). 
To create a new menu type; Navigate to the Navigate to Global Section - Settings 
 >  Venues > Menu Types.
Click on add "Menu Types" and fill in the relevant name.

Assign a category to the menu type and select "Save"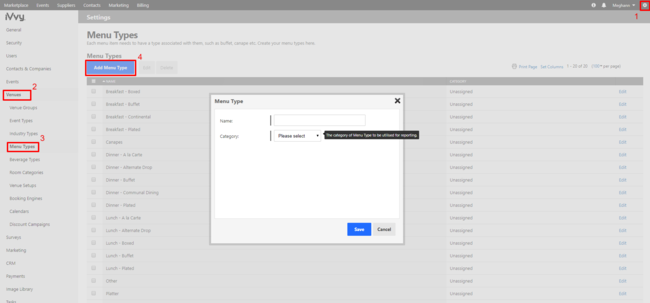 Please see a guide below on each of the buttons
Edit - Allow you to edit an existing menu type.
Delete - Allow you to delete an existing menu type.