Invoicing
iVvy allows you to generate invoices that can be emailed directly to your customers. A Pay Now Button can also be attached to your invoices to allow customers to instantly pay their invoice. 
Creating Payment Terms
Invoices in iVvy are raised from Payment Terms. To quickly add payment terms to a quote or booking, you can setup different Payment Terms under Setup > Billing & Taxes  > Payment Terms.
Learn more about Creating Payment Terms.
Adding Payment Terms
Payment Terms can be added:
When creating a Quote


When creating a Booking


When changing the status of a quote or tentative booking


Manually inside of a Booking
Click onto Statement > Payment Terms > Add Payment Terms > Hover Over Existing > Select the Required Payment Terms

The date and amount of the invoice amount due for an invoice will always be determined by the payment terms, so ensure that you have selected and checked the payment terms tab before generating an invoice.


Editing Payment Terms
Once the Payment Terms have been added to your booking, you can edit them by going to the Statement Tab and clicking on Payment Terms. From here you can edit your payment terms to adjust:

Type: This can be a selection of Deposit, Payment or Balance.
Amount: A % of the total booking amount or a fixed amount due.
Due: X days the invoice has been issued, X days Before the Event, X days After the Event.
Description: This will be displayed on the invoice and can explain further terms and conditions for this particular invoice.
Remember that each invoice generated is directly related to the details of the payment terms that are created in this tab.
Generating an Invoice
Once you have added your revenue to your booking and checked your payment terms you can now generate your required invoice(s).
Navigate to the Statement Tab and click on the Sub Statement Tab.

Click on Add Invoice > Hover Over Payment Terms and Click on your Payment Term from the pop-up list.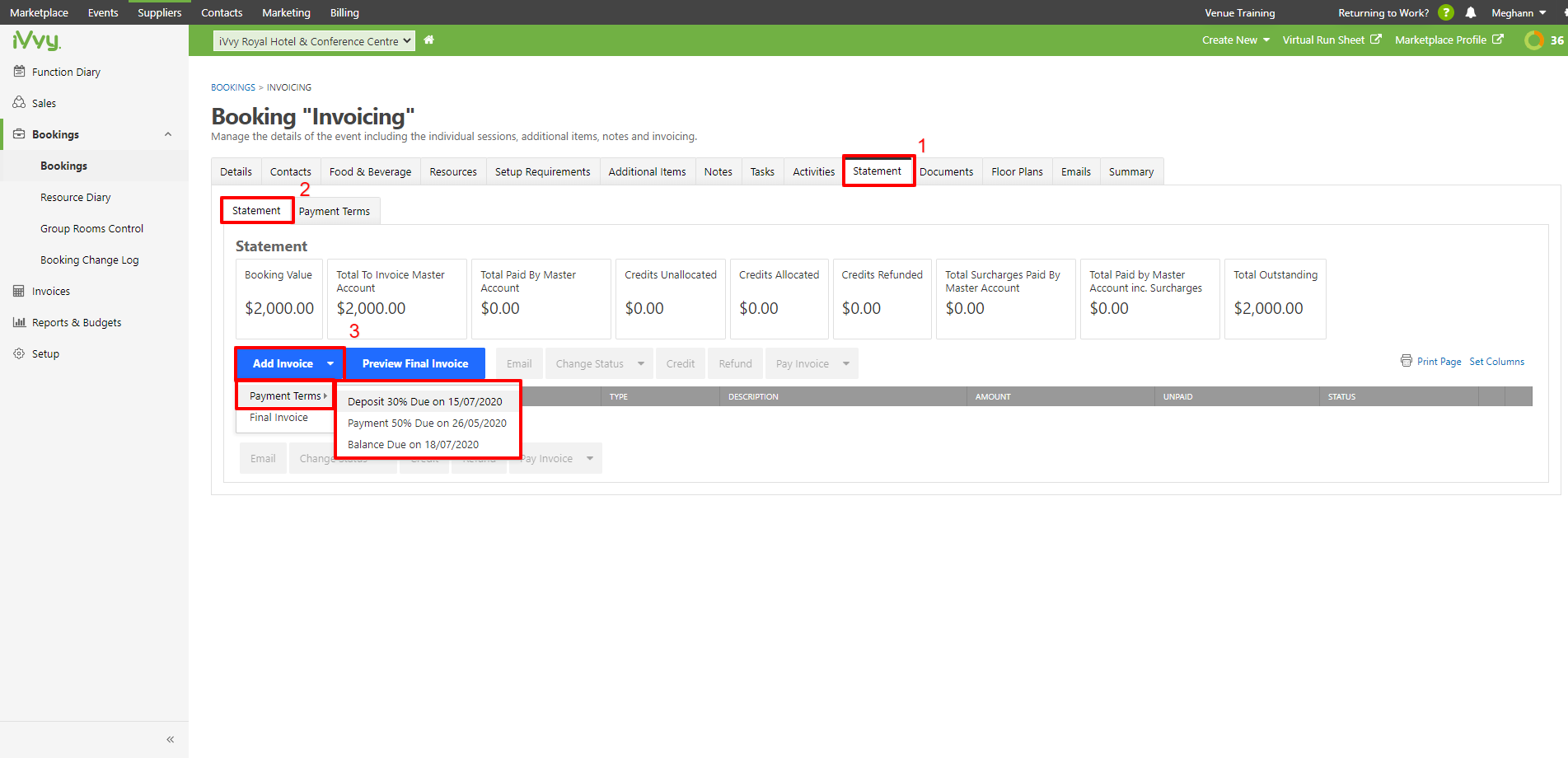 Emailing an Invoice
To email an Invoice, Select the Invoice and click the Email button. Select a template and follow the prompts to email the invoice to your customer. Learn more about Creating Email Templates
Paying an Invoice
To Manually mark an invoice as paid off in iVvy:
Select the invoice.

Click Pay Invoice.

Depending on your individual setup, you will have the option to:
Pay by Credit Card (This option is if you have setup an online gateway)
Other - This will allow you to indicate how the invoice was paid
Apply a credit note (Refer to How to Apply Credit Notes)
For this Guide - We will select the option Other.

Select the Paid Date (You can retrospectively pay an invoice).

Enter the amount paid on this invoice. You can record partial payments on a single invoice. Each payment will receive its own receipt number, and the invoice will remain unpaid until the invoice is paid in full. You can view and email a partially paid invoice at any time to see payments made and the total amount for that invoice outstanding.
NOTE: You are unable to make a payment that is GREATER than the invoice amount.

Select the Method that was used to make the payment. You can add you own custom payment method under Global Settings > Payments > Payment Methods.

Add in a receipt number for this receipt number. Note: You can have iVvy automatically generate a receipt number by turning on this feature under Setup > Venue Details > Automatically Generate Receipt Numbers = Yes
Once the invoice has been paid, the status will change to PAID. Clicking on View will now show the invoice as Paid, and this will act as a Receipt and Proof on Payment that can be emailed to the client by clicking on Email.
You will also notice that you have two line items now. The first line item is for the invoice that can still be interacted with, and the second line item shows the invoice and reference number for the corresponding invoice. For the most part, you can ignore the second line.   
If you have connected your invoices to an online gateway or integrated with one of our certified accounting software packages, your invoices will automatically be marked as paid in the iVvy system once they have been marked as paid in the other system. Pay Now Invoices will also notify you by email once your invoice has been paid by credit card. Learn more about our Full list of Integrations or contact support@ivvy.com or sales@ivvy.com for further information.
Creating a Bespoke Invoice
If you need to create a bespoke invoice, for example for any on consumption or post event items that were incurred after the balance invoice was paid, you can create an invoice from a NEW payment term. 
First we need to create a NEW Payment Term. Navigate to Statement > Payment Terms.

Click on Add Payment Term > New.

Select Payment as the Type

Enter in the Amount that the Invoice will be due for. Remember - The Invoice is Directly linked to the payment term, so add in the invoice amount to the payment term

Select the Due Date. Set 0 Days before the Event if the Invoice is Due the same day as the event.

In the description, give the payment term a name, such as "Beverages on Consumption" or "Damages" or whatever the additional invoice is for.

Save the payment term and navigate to the Statement Tab.

Click on Add Invoice > Hover over Payment Terms and select the payment term that you have just created - it will have the same name as the description above.
Canceling and Re-issuing an Invoice
 
If you do make a mistake or generate an invoice and a client makes an alteration to their booking, you can simply cancel the invoice and then generate the invoice again. Note: Only invoices with the status of NOT PAID can be canceled. Paid invoices must first be refunded.
Select the invoice that is to be canceled

Click the Change Status button and select Cancel Invoice


Wait for the page to refresh, or manually refresh your page. The invoice will now be shown as canceled. Note: Invoices can not be deleted. This invoice number will be stored as a canceled invoice.

You can now either edit the payment terms for the invoice to amend the amount or date due for the invoice. If the amount due is for a % of the total amount of the event, simply edit the booking to increase or decrease the applicable aspect of the booking (food, beverage, resources, room rental/hire etc)

Click back onto the Statement Tab > Add Invoice > Existing > Select your payment term again and the amended payment terms will be applied to the invoice.

Wait for the invoice to be generated and click View to confirm that the details are now correct. 
Refunding an Invoice
If you have paid an invoice by mistake or need to process a refund for any reason, you can easily apply a refund in iVvy by selecting the PAID invoice and clicking on REFUND. 
You are able to process a partial refund as required. NOTE: For Security and PCI Compliance, iVvy does not process any monetary refund transactions. These will still need to be completed as per your normal operating procedures. iVvy will simply update your booking and any connected applications to say that this invoice has been refunded.
Creating a Tax Invoice (Final Invoice)
Once all payments and refunds have been completed and processed, you can generate a final invoice. This will generate an invoice with a zero balance and will act as a tax invoice for the customer. If you have any amounts outstanding, you can send the customer the Final Invoice for this amount that is due. The invoice will also provide a line item summary of the booking including all taxes, service charges and fees paid.
Click on Add Invoice

Select Final Invoice

Select Yes to the prompt (see statement below)

Email the invoice to the customer as required

Note - You do not need to generate a final invoice to finalise a booking. You will only need to complete this step if a customer requests an official tax invoice for the booking.
Note: You will be prompted with a warning that you will be creating the final invoice. 

Important Note: If you create the final invoice and you have other issued invoices still outstanding, the system will account for these as already paid. This will result in the statement tab showing that the full amount of the booking has been paid, and the final invoice will be issued for a zero amount. In this instance, you will need to: 
Cancel the final invoice.
Mark the outstanding invoices as paid - or cancel them if they are no longer required
Generate the final invoice again
Invoices are unable to be deleted from the system. If you require invoices to be credited before they are cancelled, please contact support@ivvy.com to have Credit Notes added to your venue.
Please contact support@ivvy.com for further support if you create the final invoice prior to paying off all other outstanding invoices.
Finding Invoices and Payments
To find all of your invoices, payments and refunds, simply click on the INVOICE tab on the left hand tab of your screen. If you have multiple properties in your account, click on Billing at the top of the screen to find all of your invoices merged together under the same headings below.
Invoices
Here you will find a full list of invoices for your property. You can filter this view by clicking on the drop down menu in the right hand corner. You can apply the following filters:
Reference Number

Booking Reference

Booking Name

Company or Contact 

Created Date Range

Status (Paid, Not Paid, Cancelled, Refunded)

Due Date

Name of Invoice

Amount Greater than or less than
Payments
Here you will find a full list of all payments that have been made and the method of payment. You can apply the following filters:
Refunds
Here you will find a full list of all refunds made. You can apply the following filters